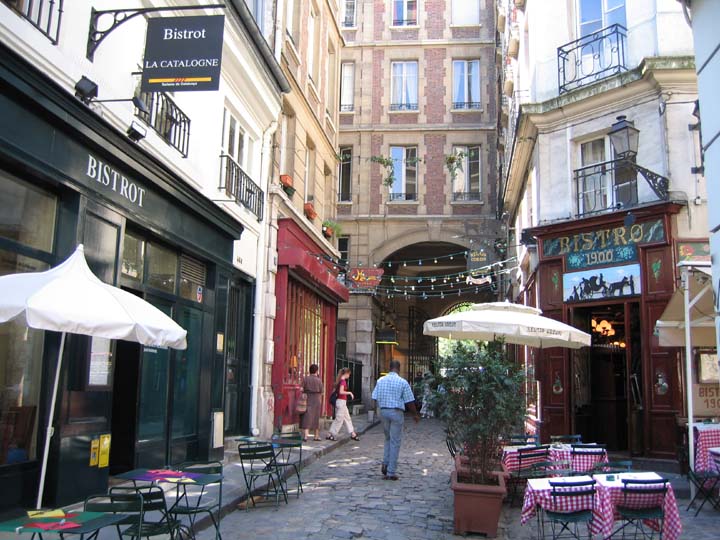 This weekend Neil and I have our little
24-hour-getaway
. While we're not going to Paris (I just liked this picture), I am really excited to have a whole day alone with my sweetheart.
One of the things I'm really looking forward to are the meals we have planned--right now the house smells like roasted garlic (tonight we decided to cook up some favorites ourselves rather than going out, so the menu is grilled sirloin steaks, roasted garlic mashed potatoes, spinach and strawberry salad, and crusty baguettes. Plus a total dietary splurge--jalapeno poppers to munch out while we wait for the steaks to cook). We're planning on going out for breakfast, which for some reason always epitomizes decadence to me--it's probably my favorite meal to go out for, perhaps because it's never very feasible with small ravenous children who insist on eating five seconds after they've woken up. Ooh, I am excited. Plus I think we may sneak out and take advantage of Applebee's half-price appetizers because we can leave the house after ten p.m.! Exciting stuff.
Other than that, we're pretty up in the air. We've got a bunch of ideas that we've been tossing around, depending on the weather and how lazy we feel--so I'm just looking forward to a weekend of doing whatever we want to, whether it's several hours of raquetball, a long tramp in the rain through the woods, a trip to some of the really fun stores in Indianapolis, or playing chess in our pajamas in front of the fireplace. Indulgence, indulgence, indulgence.

And now, speaking of indulgence, I am skipping my normal afternoon workout because I promised Neil I would take a nap this afternoon (since otherwise I will fall asleep before 8:30 tonight). Maybe I'll eat a box of chocolates or something really decadent while I'm at it, since it's almost two and I used the girls' lunchtime to pick over the spinach rather than sitting down and eating (except the only chocolates we have are the ones that my dad brought me from San Francisco, and I hid them from Neil to stop their speedy disappearance and then I forgot where I hid them. A hunt is in order...my mouth is watering for almond-chocolate coated toffees. Actually, I still have the makings of those Cafe Rio sweet pork salads in the 'fridge, so maybe we'll do both...am I making you hungry yet?).