On Saturday we spent a couple of hours strolling around some of the higher-end stores in Indianapolis to get ideas. I love doing this--I look at a million things, decide what I really like, then figure out how to recreate it for less.
One thing that really tempted me to just buy it right then and there: this Pottery Barn duvet. I've been wanting to redo our bedroom forever (it is still unpainted because I can't decide what I want), since it seems to be the repository of the things that I didn't like well enough to put somewhere else in the house. I'm still going back and forth on whether I want to save my pennies for this bedding, or just go for the general aesthetic with more affordable pieces. End goal: something very uncluttered-looking, since if you've spent much time at my house you know I can't stand surfaces with lots of things on them (unless it's my fruit piles). And something serene, and peaceful, and symmetric, since I also can't stand things to be uneven looking (which explains why the study is my favorite place in our house, since it is basically a mirror image of itself with bookcase and art placement).
While I really like things to be simple in the rest of the house, the kitchen is a sort of free-for-all in terms of a mishmash of colors, textures, and patterns in the kitchen. For some reason, it's so much more fun for me to use a whole bunch of colored dishes than to use things that totally match, and it always entrances me to listen to Abigail conducting a quiet little debate with herself over which "color bowl" she wants to use for breakfast from the big stack of Anthropologie latte bowls (speaking of which, I went there to try to get a pink bowl for her birthday, and they were sold out! so sad). I'm definitely not there yet (Neil and I always look longingly at those big stacks of Fiestaware with all their glorious colors whenever we pass a home store), but these happy Crate and Barrel bowls came home with us. I've had so much fun making up excuses to use them all weekend, and I lined them up on the shelf over the sink so I can look at them and smile (but no picture because my camera is out of batteries). Love the colors!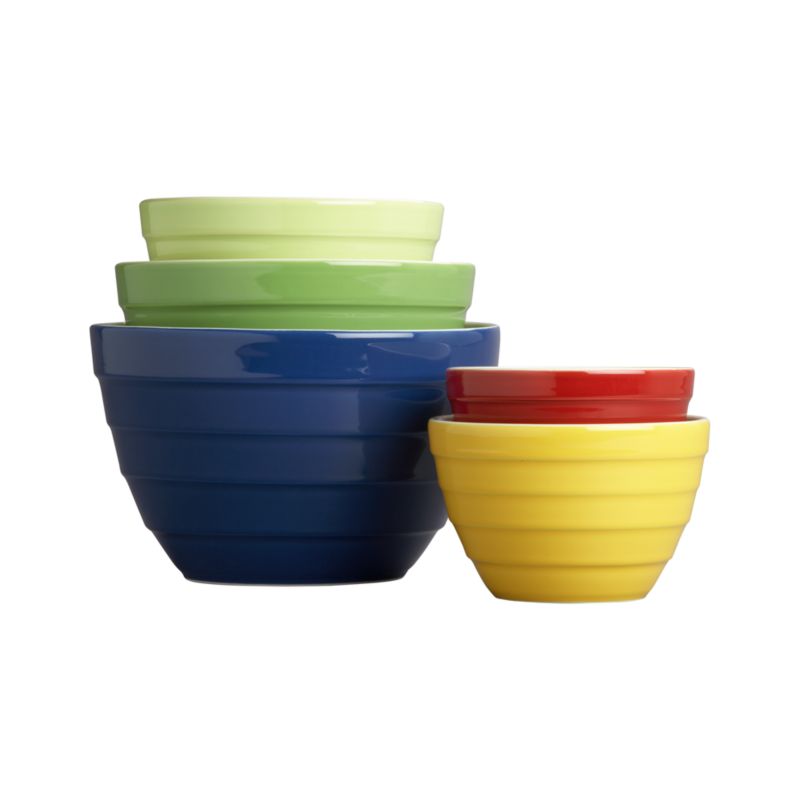 and speaking of colorful kitchens, don't you just love this one? (via
design sponge
)
some day, my friends, some day. I think one of the best things about living on a student budget is that it forces me to really refine what I like, so hopefully someday I won't want to redecorate every year because I realize my house just isn't me. Hopefully.
and that's enough rhapsodizing for today...time to get back to real life!